15 Oct

Tigh Mhóire
"I am an old woman now, with one foot in the grave and the other on its edge. I have experienced much ease and much hardship from the day I was born until this very day…The place in which I was born was a small remote town land in Dunquin at the foot of Mount Eagle in the town land in which the legendary House of Mór stands."
Peig Sayers, 1973 1
Loading...
Drag within the image to explore Tigh Mhóire in virtual reality.
It was no accident of geography that Peig Sayers choose to place Tigh Mhóire (Mór's House) within the first paragraph of her autobiography. This unexcavated and largely undocumented ancient monument in the hills outside the village of Dún Chaoin (Dunquin) is connected in folklore with two different legends of powerful women. Peig Sayers, who wrote of her life on nearby Great Blasket Island where she moved after her marriage, was once required reading for every student in Ireland.2 Her home in Dún Chaoin is visible behind the old stones of Tigh Mhóire in the virtual-reality environment (left). Hotspots will allow you to explore the scene from four different positions. in 1910 antiquarian T.J. Westropp noted the ruins and one of the legends:
"The site is very noble, with its beautiful outlook along the great brown and purple hunks of Mount Eagle and Marhin, and across the fierce currents of the Sound, and southward from the Blaskets to the peaks of Skellig…A legend of the Head tells how Mor, wife of Lear, landed at Dunmore Head, her husband going to the North. She had three sons, and grew wealthy, and lived at 'Tivorye' (Teach Mhoire) hut or dolmen. In the tale she is undoubtedly a rain-cloud heroine." 3
Tigh Mhóire has been described an "an ancient burial ground,"4 but it may also be a calluragh, an old cemetery for unbaptized infants. It contains what may be a prehistoric tomb, a fragment of an early cross-slab, and Uaigh an Spannigh (the Spanish Grave), reputedly the grave of Prince d'Ascoli, son of Phillip II of Spain, lost in a shipwreck of the Spanish Armada of 1588.5
In the hills above Tigh Mhóire is another monument, the Ditch (or Dike) of Mór, associated with the same legendary personage. Archaeologists understand this as an earthen bank, around 30 meters (98 feet) in diameter, with traces of an internal fosse, perhaps a ritual enclosure from the early Bronze Age.6 There is another folkloric tradition of Mór, different from that related above by Westropp. This story, as translated by Doncha Ó Conchúir in the video (right), explains the ridges and furrows created when Mór was walking the hills near her house on a visit to Donn, her husband. He had earlier been spirited away to Donaghadee, a town in Co. Down that is about as far away in Ireland as one can get from Tigh Mhóire. From this came the vernacular phrase that indicates a great distance, "as far as Tigh Mhóire from Donaghadee" (Ó Dhomhnach Diagh go Tigh Mháire).
"And then she looked around and wondered at the expanse of Ireland. She could see as far as the McGillycuddy's Reeks, the highest mountains in Ireland. And she stopped and exclaimed: 'How great Ireland is!' Then after a while she got a call of nature, and she relieved herself and the streams of water burrowed so deeply in the ground that they formed banks and dikes that can be seen today." 7
Doncha Ó Conchúir (1909-2004) was a author who was considered the foremost authority of his time8 on the folklore and archaeology of Chorca Dhuibhne, the Dingle Peninsula. The author also narrates a local legend in our page on the Gate of the Cow. In the video here, Ó Conchúir translates from the Irish of Thirty Hundreds of Gree, by Pádraig Ó Siochfhradha.9 The story also is presented in the introduction to Curtin's Hero Tales of Ireland (1894).10
According to Ó Conchúir, Tigh Mhóire might sometimes be called "Tigh Dhoinn" (Donn's House), for her husband. Donn was, according to some traditions, the god of the underworld, the god of death. Since his constituency, the dead, came from the length and breadth of Ireland, his house had to be a large one, in Irish mór. Over the years the name Large House, an tigh mór, might have become confused with the name of the goddess Mór.11
Mór may be viewed at a local variant of the Cailleach, the divine hag of winter. Mór is honored with other places as well, according to the Irish poet Nula Ni Dhomhnaill, who lived nearby when she was a child:
"This shadowy presence is associated often with high mountains, a distant mother of the gods…she takes the form of the eponymous mother goddess of sovereignty, Mór of Munster, who is associated with many local place names…She is reputedly buried at Mór's House in Dunquin…an early Christian site that is now little more than a mess of stones. Indeed the whole parish here is often referred to jocularly as "Bundun Mhoire," Mór's backside, which is considered a term of pride and honor by the local people, notwithstanding the jibes that it inspires." 12
"…green snakes
will emanate from your womb
if you stay hatching
out this poisoned kernel
one day more.

Gather to your self,
like a bee,
the hours that are blossoming
in the sun's sharp sting:
they ripen in the heat.

Gather them –
from them create
honeyed days."
Nula Ni Dhomhnaill, "Mór Hatching," 198813
Click here to see all the notes from this page.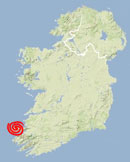 Tigh Mhóire, Co. Kerry
Nearest Town: Dún Chaoin (Dunquin)
Townland: Baile Bhiocáire (Vicarstown)
Latitude: 52° 7′ 33.78″ N
Longitude: 10° 26′ 46.17″ W


---
External Links: