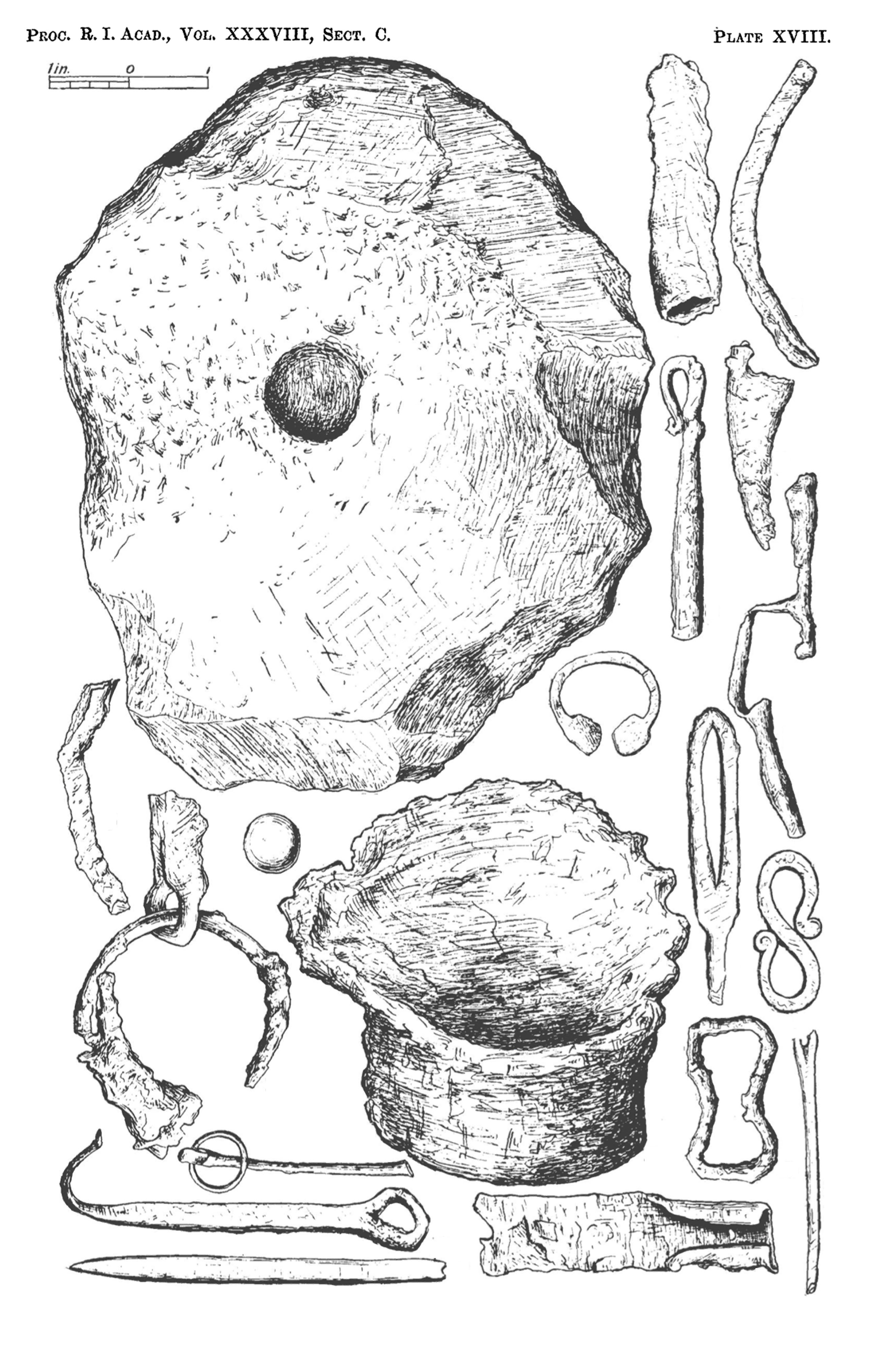 Lower Quern-Stone.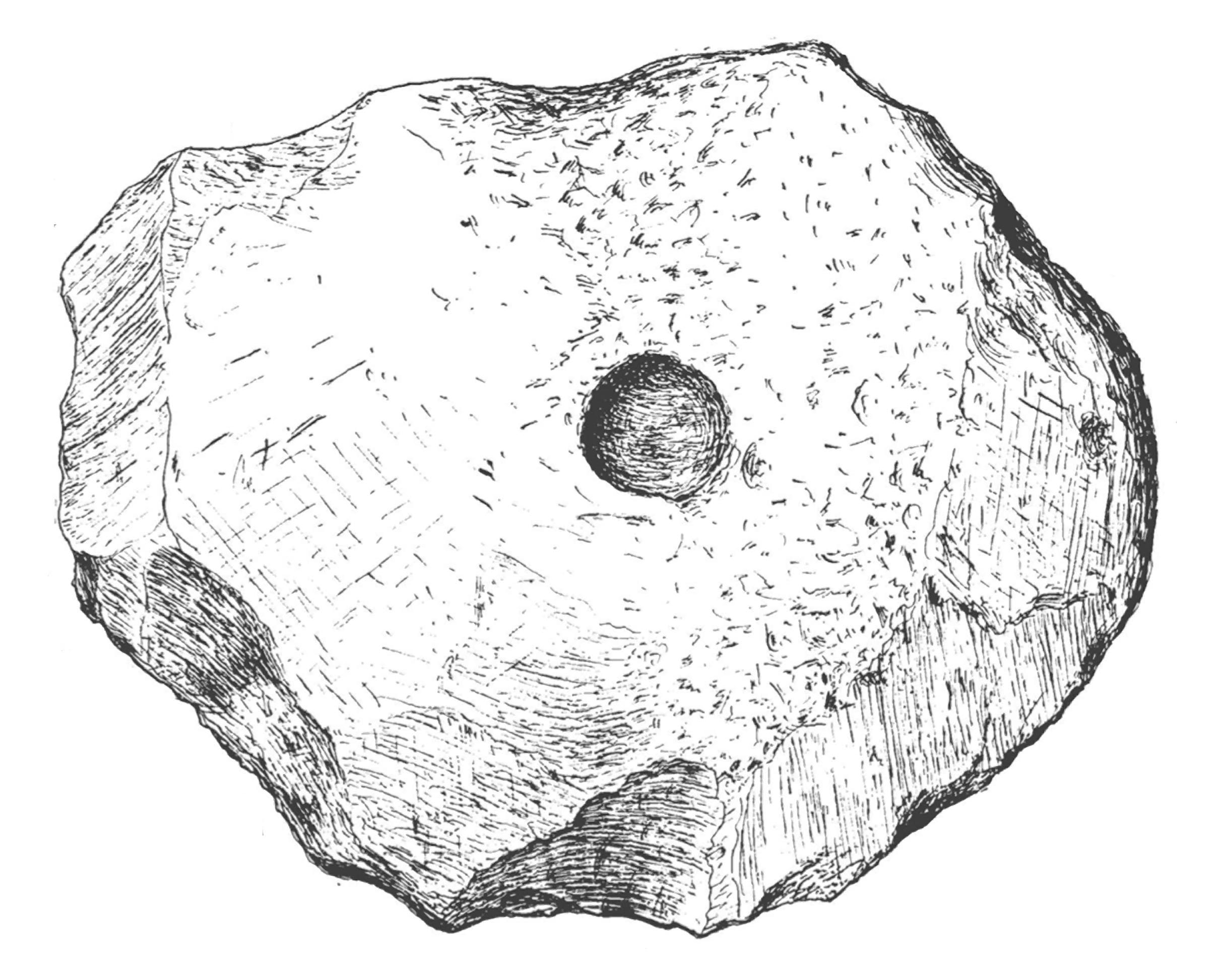 Lower quern-stone; more or less flat and roughly circular disc, with a conical depression in the centre of one side. Diameter of the largest of these (not shown), found on the central ridge of the Central Section, 2'. Drawn half scale.
Wedge-Shaped Fragment.

Wedge-shaped fragment, remains of a socket at the butt-end, 2¾'' long.
Small Sickle.

A small sickle, socketed; length of this larger and more perfect example, 4", breadth of the blade ¼".
Pin (?).

Pin (?), point broken off, the present end thick and club-shaped; the butt curved into a loop of the conventional "shepherd's crook" shape.
Catch-End of a Fibula.

Triangular catch-end of a large La Tène fibula of the Third Period. Found on the floor of the Western Annexe-chamber in the Eastern House. Length 2¾".
Part of a Harness (?).
Object of uncertain use (? part of harness) consisting of two pins in line with one another, connected by a O-shaped piece. Length 4½".
Ring of a Penannular Brooch.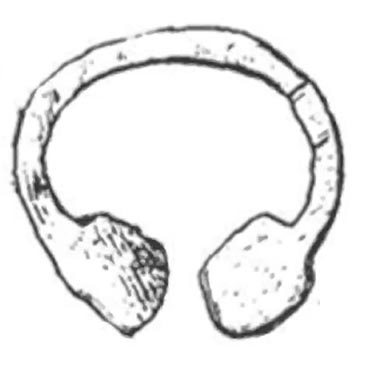 Ring of a penannular brooch with triangular expansions, from the filling of the Inner Ditch. Diameter 1¼".
Quartz Pebble.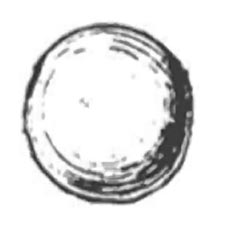 Quartz pebble; these were found throughout the site—more than could be accounted for by natural causes. They are mostly more or less ovoid or disc-shaped, and much water-worn. In a few places small pockets of them were discovered—a collection of nine or ten together. Some few were chipped roughly, possibly with intention.
Ringed Iron Bar.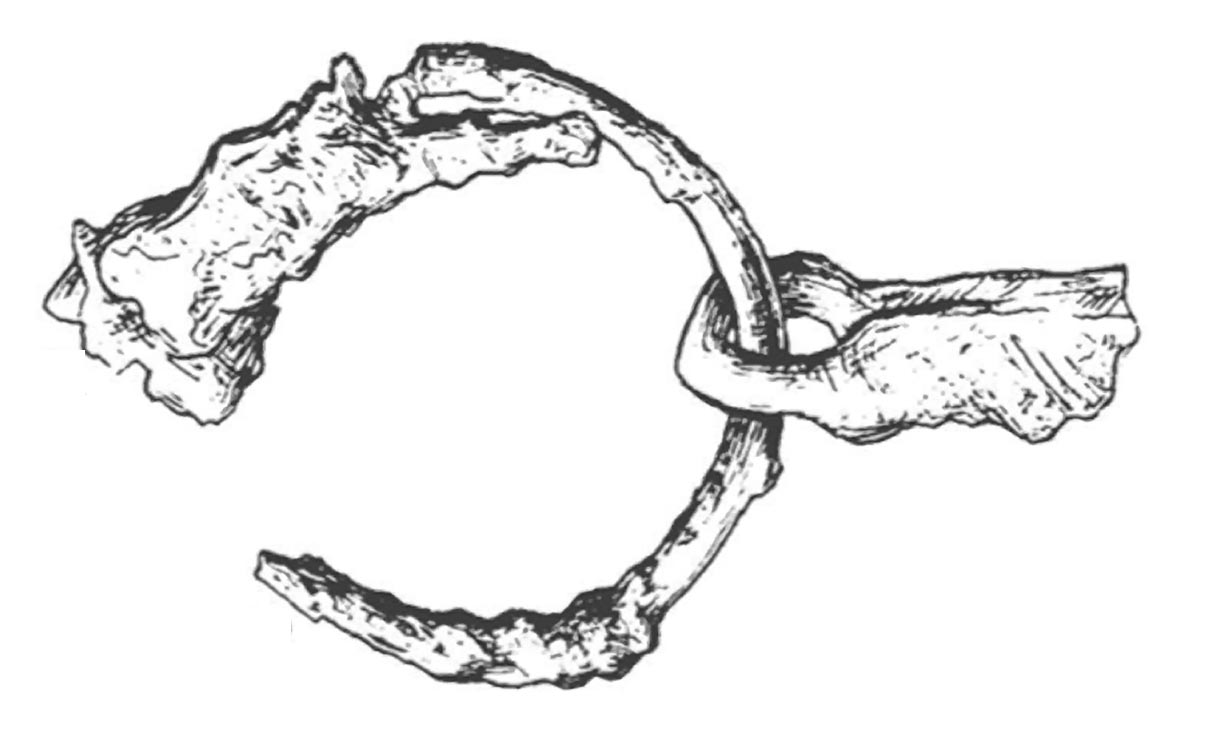 A ring 2⅜" in external diameter, being a circular loop made of an iron bar, circular in section, 3/16 " in diameter. Upon this ring a second ring is looped, the free ends of which are expanded, prolonged, and turned outward, being so placed that they could secure between them the end qf a thong of leather.
Small Socketed Sickle.

A small sickle, socketed.
Crucible Bottom (?).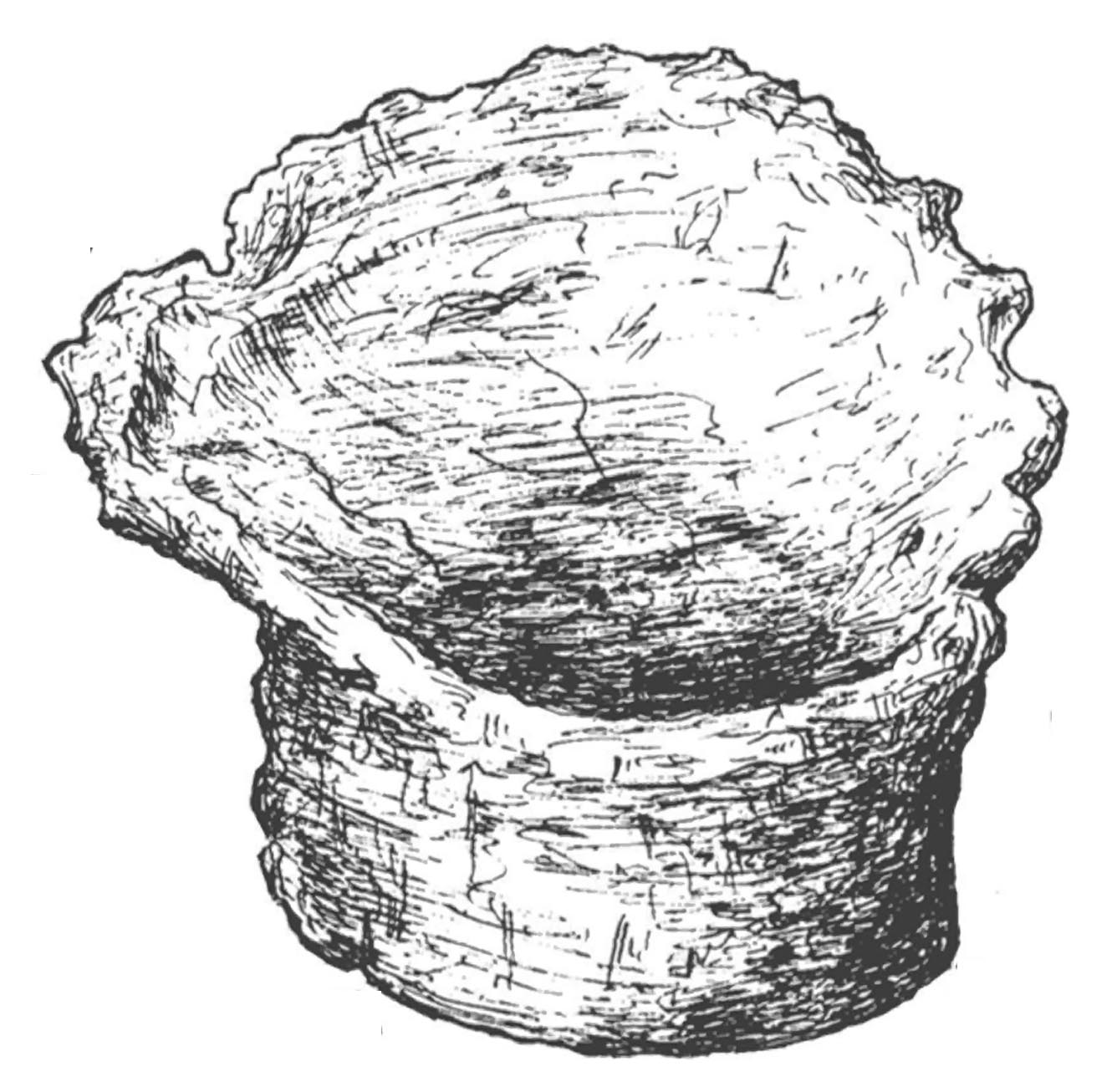 An irregular fragment, much corroded, the upper surface concave, possibly the bottom of a crucible. 5¼'' by 5¼'' by 2".
Part of Harness (?).

Object in shape resembling a tuning-fork with the free ends conjoined; possibly some part of a suit of harness. Length 3¾".
Ornamental Object.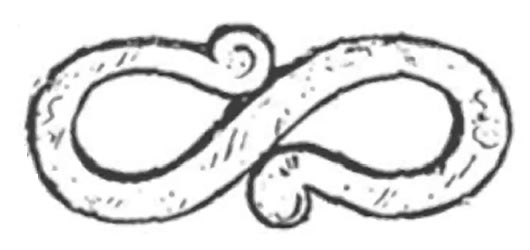 Ornamental S-shaped object, 2¾" long.
Bent Ring.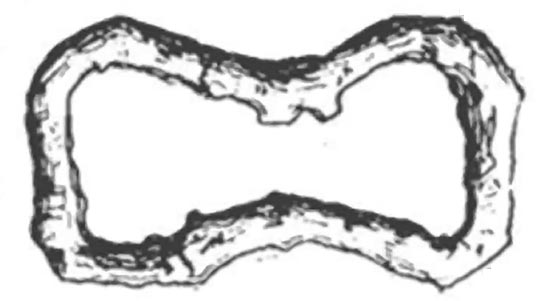 Ring, bent into a dice-box shape. Length 2¾".
Looped Pin.

Pin, 3" long (tip broken off), looped at the upper end; a bronze ring ¾" in diameter secured in the loop. From the filling of the Inner Ditch.
Metal Skewer (?).

Object resembling a metal skewer, with a ring-head; triangular blade, ½" broad just under the ring, tapering to a point. Bent into a hook. Length 4⅝''.
Bone Pin.

Pin of polished bone, notched (not broken) at the butt end. Length 4⅞".
Half of Socketed Knife.

Object resembling the lower half of a socketed knife, broken off about the middle of the blade. One rivet-hole in the socket. There is also a rivet-hole just at the line of fracture. Length 4".
Bone Needle.

Needle made of a slender pointed bone, a perforation (broken) at the butt-end. Length 3¾".